LIMITED OFFERS FROM MANTRAC
Promotions
Explore Mantrac's latest offers on tried and tested Caterpillar equipment and power solutions.
Discover your next great deal
We offer a range of services and products through our limited-time campaigns, so your operations have the opportunity to get more at lower costs.
This page is periodically updated with the latest offerings from Mantrac, spanning our array of power systems, equipment and more.
Leading The Competition of Backhoe Loaders
426F2 BACKHOE LOADER FROM MANTRAC
Whether you are working in construction, landscaping, mining or even agricultural conditions, the Cat® 426F2 Backhoe Loaders offer low cost of ownership while maintaining outstanding performance at optimum payload.
Largest load capacity
Widest bucket rotation angle
Highest fuel efficiency
Lowest maintenance costs
RENEWABLE POWER
EPC solar solutions for greater returns
Save on solar with our range of Cat solar power systems. As an EPC solar provider, we ensure lower operational costs and a high return on investment for our customers.
Save with solar - supplement traditional power sources with solar and save up to 25% in fuel costs
Add-on energy storage systems for your solar solutions and save up to 50% in fuel costs
Control power sources with a Master Microgrid Controller (MMC) and save up to 75% in fuel costs
MACHINES ON OFFER
Equipment Solutions for Business Owners
The most popular models of Caterpillar Excavators, Soil Compactors, Wheel Loaders, Motor Graders and Multi-Purpose Backhoes for retail and commercial applications.
Choose from Cat or SEM brand machines
Mantrac provided lifecycle support with value agreements and repair options
Financing and ownership options, including direct rentals and flexible payment plans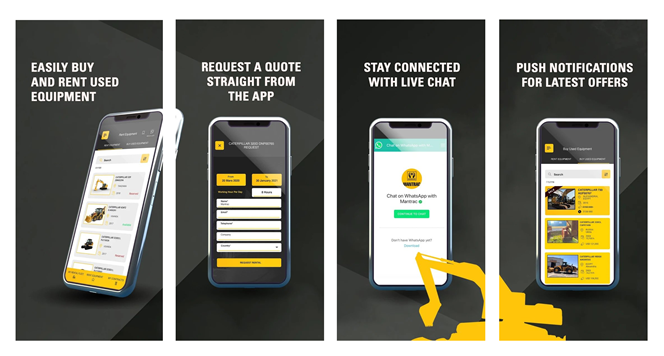 The official Mantrac Group Used and Rental Machine App offers you all the information you need on available Cat® used machines and Cat machines for rent, across Mantrac territories.

Through this app we have put functionality at your fingertips to simplify your access to used and rental fleet information and to give you better control of your search.

• NEW user-friendly interface
• Check equipment availability, details and prices
• Request a quote through the app
• Set-up push notifications for latest offers and available equipment
• WhatsApp live chat integration for easier communication