The Cat 426F2 Backhoe: Taking A Load of Your Mind

Working in the construction industry is fast paced, demanding and highly challenging. Therefore the last thing anyone needs is the added stress of machinery that's not fit for purpose.
So when it comes to providing the best in class backhoe machines, you could say the Cat 426F2 is the cream of the crop. This should come as no surprise really, as Caterpillar do know a thing or two about producing backhoe loaders.
For over 35 years, from the A series to the new F2 series, Caterpillar have been listening to their customers feedback and designing and perfecting their machines with the operators needs in mind. Hence, if you are in the market for a backhoe machine, the Cat 426F2 machine truly delivers on reliability, durability and productivity.
But why take our word for it?
Instead, lets hear first hand what one of our customers had to say about their experience and how it delivered on-site for them:
Paul Waweru, Project Manager Cheriez Properties limited, Kenya, has nothing but high praise for his new Cat 426F2 backhoe loader. When we caught up with him, it was the first time they had switched from a competitor backhoe product to the Cat version. Working under pressure, in a challenging Kenyan housing development project, Paul says, the three key things they considered when purchasing a backhoe were:
Price
100% Reliability
Durability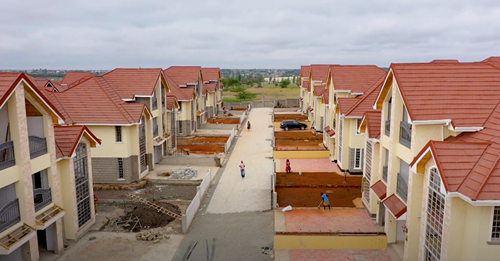 Paul said: "We are pleased to report that across all three of these, the Cat 426F2 backhoe came out trumps. We purchased the machine over a year ago and so far the 426F2 backhoe loader with Side Shift delivers all the power, performance and productivity we need, together with features to beat the heat and the dust and keep the operator comfortable. After all, the key to increased productivity, is increased operator satisfaction!"
At Caterpillar, we definitely agree with Paul that improved productivity starts with the operator. Hence, the new 426F2 cab design is more spacious, allowing the operator to move freely when turning from one mode to another and providing comfort and ease of operation. In fact, the cab has been purpose-built for the African and Middle Eastern markets. Greater visibility is ensured with flat tinted glass and a curved front windscreen. Other cab features include easy-to-reach controls and a high pump flow superior hydraulic system, that delivers excellent performance - at the operator's fingertips. In fact, an internal engineering study showed the Variable Displacement Piston Pump can be up to 15% more fuel efficient than a JCB 3DX with a gear pump. And even though the initial outlay for a piston pump is more expensive, it can quickly be recouped with fuel savings.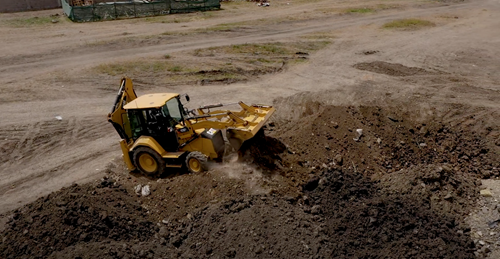 Maximising machine performance is also simple. Product Link provides quick access to vital information such as machine location, hours worked, machine error codes and fuel burn.
Paul went on to enthuse that they found the backhoe could do even more jobs on-site than they had at first anticipated. In addition to the usual tasks you'd expect, shifting materials, digging trenches etc, Paul says: "One example that totally surprised us, was when we considered hiring a big excavator, such as a 20 ton, to excavate a large bowel digester peat. Instead, we used the backhoe and to everyone's amazement, it quickly and efficiently excavated over 1,500 cubic metres of bowel digester peat."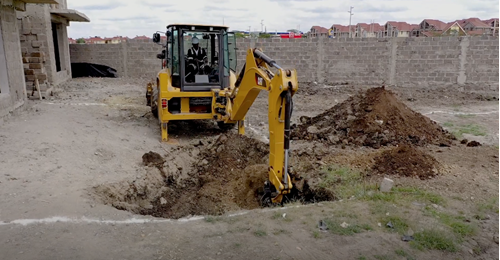 The Cat F2 series comes with an excavator style boom, which provides greater reach and digging depth. The 205° high-rotation bucket linkage ensures superior material retention and exceptional material removal when excavating. The machine's narrow 2.2m-wide frame with Side Shift offers superb manoeuvrability and performance in confined spaces. In addition, dual brake pedals also allow for split braking in tight corners for increased manoeuvrability. Available in either two or four-wheel drive, the 426F2 features a 100% differential lock in the rear axle. This provides maximum traction in poor ground conditions, but it can equally achieve road speeds of up to 40 km/h, aided by its four speed Power-Shuttle transmission.
When it comes to service and maintenance, the 426F2 delivers on all levels. A Flip Open hood provides easy access to all daily check points. And removable engine side panels offer access to the engine at ground level.
An externally mounted engine pre-cleaner offers quick filter servicing for customers working in dusty operating conditions like those in the Gulf and Middle East. The enclosed rear axle and wet multi-plate braking system also guards against the ingress of dust in the system and ensures the machine can operate reliably in the harshest conditions. And the laborious job of greasing has been eradicated with sealed for life Axles. All these features ensure you spend less time maintaining the machine and more time earning money!
But power alone is nothing without efficiency. And as Paul says: "In the past we have hired other backhoe machines but when we got the CAT 426, we really felt we hit the jackpot. Not only is it versatile and easy to service and maintain, its fuel efficiency is very high. We are already seeing big returns on our investment. In one year, it saved us over 2,500 US dollars in fuel alone. And our experience with Mantrac's aftersales team has been second-to-none. We love the way they work."
With all this considered, it is no surprise to anyone that Richard Maddocks, Backhoe product application Specialist at Caterpillar, reports they have sold over 1000 426F2 machines in Africa alone. And customer fed-back supports our claims that the machine is easy to service, really reliable and offers fantastic fuel efficiency!