Discover Mantrac
Eliminating $33,735 in Repair Costs at a Resort
When a resort in Egypt noticed excessive black smoke and oil dilution during regular operations, we were called to find a solution.
From red alert event to major savings
After operating without any problems for a long-time using Cat® 3412 generator sets, the Egyptian resort began experiencing excessive smoke coming from their machines and we stepped in to resolve the issue. Oil analysis was conducted using the Scheduled Oil Sampling technique. It revealed a red alert, with high positive fuel dilution and low oil viscosity. Engineers also detailed a Condition Monitoring report. A service inspection revealed several issues, including a partial fracture on an inlet valve, damage to an injector tip and excessive oil leakage form the turbocharger. With minimal repairs, we got the generator up and running, eliminating the risk of component failure saving our customer tens and thousands of dollars.
Popular Equipment
With a wide range of equipments, we have a solution for you no matter what your operation.
Service Solutions
We have an extensive team of experts to help you enhance every aspect of your operations.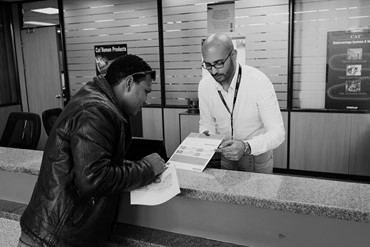 Financing
We provide flexible financing options, because we know our products and services have great potential to boost your profitability.