A cloud-based tool for real-time data from your fleet
Cat® Productivity is a cloud-based application that is scalable to any size operation. Detailed Cat Production Measurement data, machine data and jobsite data are transmitted from the
onboard Cat Product Link™ device directly to the web platform, for you to access wherever you are, via your mobile, tablet or desktop device.

Analyse Performance
Track material types and tonnage moved, fuel costs and machine hours, pull live payload data for analysis and compare productivity between shifts.

Improve Productivity
Review dashboards to detect and fix high idle time, redeploy fleet based on hourly utilization updates and use data to determine optimum distances between cycle segments.

Increase Profits
Identify and improve instances of high fuel burn, assess utilization levels to determine when to buy new, used or rent and pull historical data for more accurate bids on future projects.
Link telematics technologies gather and present data from your equipment, materials and people. With easy access to your data, you get the insights you need to take fleet management to a new level.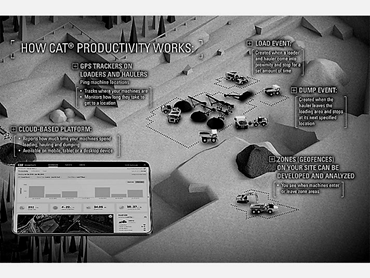 How Cat Productivity Works
GPS trackers on your loaders and haulers constantly ping location
When a loader and hauler come within a specific range of each other and stop next to one another for a certain amount of time, that creates a load event.
After the hauler leaves the load area and stops at a consistent location, a dump event is created.
You can also create zones (geofences) on your site and this indicates when they enter or leave certain areas that could be labeled.
*Cat® Productivity logic can be used on older Cat machines and non-Cat machines with a cellular product link™ device. *Cat Productivity is also capable of sending advanced productivity data off machines equipped with a payload system [Cat Production Measurement (CPM) or truck payload measurement system (TPMS)],which makes the system more intelligent and accurate.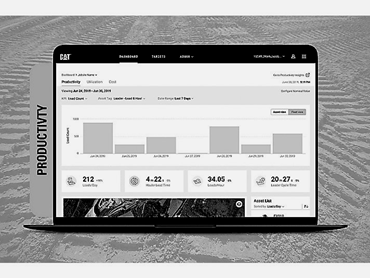 Productivity Dashboards
Load counts -
Cat Productivity's site reporting can monitor full data on actual fleet production.
Individual assets can also be analyzed by load counts, payload and key metrics.
Payload - The tool can provide data such as hourly fleet performance, to help identify opportunities for increased productivity in your daily operation. For example, optimized management of shift changes, refueling process and breaks. Segments - The tool can provide data on machine activity such as cycle segments, load times, fill levels, and loader positioning, which allows you to make informed adjustments with operators to increase site efficiency.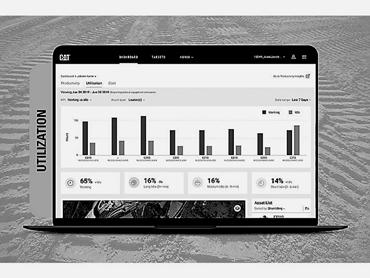 UtilIzation Dashboards
The tool can provide the following utilization data -
Working vs idle hours
Working vs idle fuel
Monitoring idle activity means you can make informed adjustments to jobsite operation.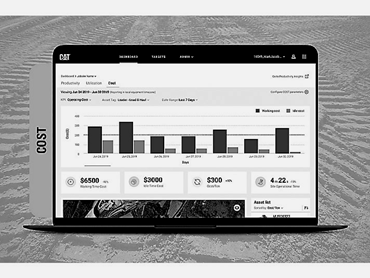 Cost Dashboard
Cat Productivity's site reporting provides an overview of site costs including total site costs, fuel costs, cost trends, and fuel consumption.
More technology from Cat Link
View other Cat technology that can you manage your fleet and transform
performance with real-time, usable data.