We never know what kind of information might be useful to us when we face new and present challenges. How we use the information we have, and how we comport ourselves, says a lot about us individually and as a company.
In preparation
Between 2018 and 2020 the Democratic Republic of Congo was enduring an Ebola outbreak. In neighbouring Uganda there were ongoing preparations and precautions to protect the spread of the virus. To facilitate preparedness, Mantrac established an internal committee to monitor the situation and to develop precautionary steps and create pre-emptive planning.
Some of the initial planning measures now seem very familiar to us, such as hand sanitation at key points around a facility, particularly at entrances and exits. One of the people within Mantrac Uganda who was responsible for developing and potentially implementing these precautions was Health and Safety Officer, Damiano Kato Kazibwe.
Uganda, like a number of other nations, imposed a very short notice, wide reaching lockdown, which gave citizens and businesses little time to prepare. Announced and enacted on 20th March 2020, Uganda went into a near immediate national lockdown.
In practice
To keep operations going one of the most immediate things Damiano had to do was to apply for vehicle permits from the Ministry of Works so that Mantrac could ensure support for customers such as hospitals, government bodies, food industry facilities and telecom companies. Straight away, on the first day of lockdown, he began the process of acquiring and submitting the forms and paperwork required. These permits would also help with revised arrangements for workers who would now need to work from home.
Normally such permits are restricted on an industry basis to construction and food manufacturing. Damiano was able to make a case for Mantrac as a business that supports the construction industry, machine servicing being hard to do remotely, and secured 8 permits for the company. These would be crucial over the coming months.
One of the initial groups that needed support from Damiano was the Internal Sales Reps. Normally working in a centralised location, on bulky desktop machines, a number of problems would have been insurmountable without these vehicle permits. In the first instance, moving equipment to people's homes to get it installed and setup, but also to facilitate IT staff (under heavy precautions) going to these homes to assist in the setup of communicative equipment such as modems and software solutions such as VPNs. Additionally, Damiano has been monitoring the vehicle service and maintenance schedules for these vehicles to ensure they do not fall out of use. 
In his role as a Health and Safety officer, Damiano has also been responsible for the education and dispersal of COVID-19 information amongst Ugandan staff. Helping staff to understand the actions they can take, the precautions they can put in place, to minimise the spread of the virus has also been vital to how the Ugandan team has operated during the pandemic. He has also been responsible for checking that suppliers and contractors working with Mantrac have been following the guidance and operating safely. He even went as far as to produce a small booklet to guide safe working practices that was distributed to other business units to utilise. Alongside his usual responsibilities, Damiano has also been required to undertake additional property management tasks during the pandemic.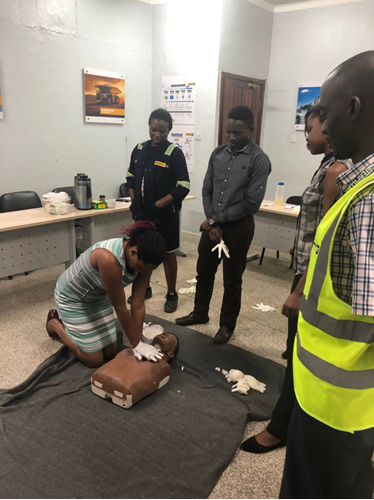 In person
Damiano's work and behaviour have not gone unnoticed amongst his colleagues in Uganda.
Hatem Farouk, Managing Director of Mantrac Uganda said, "Damiano has shown us many important things in handling the lockdown, supporting his colleagues and overseeing COVID-19 restrictions. Firstly, his ability to utilise his experience and understanding with Ebola preparations has helped us plan during the COVID-19 lockdown. His familiarity with the risks and best practices have helped Mantrac move efficiently and decisively."
"Secondly, he has kept a friendly and upbeat attitude throughout.  We are all affected by the pandemic and lockdown in different ways. Some of us are isolated, others are fearful of what may happen to their loved ones. Panic can be contagious. Damiano has continually presented a positive outlook and demeanour that has helped his colleagues to be positive and remained focused during difficult times."
"His knowledge and the way he has behaved demonstrates Mantrac staff ideals at their best."